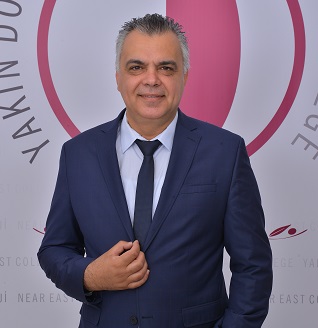 Welcome to the Near East College
I take great pride in welcoming you to the Near East College as Head of the Near East Secondary Group of Schools.
Since 1993, The Near East College schools have taken on the role of preparing our next generation as individuals who will shape the future. We have broken new grounds in many areas and will continue to do so. Our school has grown due to investing all profits made back into education provided, as it believes in preparing each student for academic success as well as life's responsibilities.
Our main vision is to create a younger generation following Ataturk's principles and reforms by combining high academic standards with scientific education, knowledge of culture and art, sports and environmental awareness.
We educate our students with dynamic and experienced teachers who blend national and international education values and relay knowledge with modern techniques. From pre-school to university, the Near East College has accomplished many achievements with its technologically equipped foundation and strong foreign language education. It also offers cultural and art activities in addition to giving students the opportunity to use their sports skills.
Our top priority is to integrate students into society, as individuals who enjoy lifelong learning, are adaptable to changes and have high self-confidence. These individuals will be inquisitive, conscious of their surroundings, sociable and highly aware of their environment.
As the Near East College, we will not be content with what we have achieved up to now. Our mission is to become one of the leading schools in the world. We will prevail.
Welcome again to the Near East family. Visit our website regularly for more information on recent events. I believe you will find many interesting articles on our school's webpage.
Kind Regards,
Asım İdris
Head of the Near East Secondary group of schools.