The Near East College is one of the largest educational campuses of the Turkish Republic of Northern Cyprus. It has an indoor area of 15,000 m² built within an area of 40,000 m². Within the college campus, there is a middle school building with a capacity of 700 students and a high school building with a capacity of 1000 students.
In addition, there are indoor sports complexes, a dining hall, outdoor playgrounds and sports fields, 6 science laboratories each with a capacity of 30 people, 5 fully equipped computer laboratories, 130-seat auditorium, club rooms, libraries and an examination hall with a capacity of 130 students.
All classrooms and laboratories are equipped with Apple TV, projectors and Internet connections. Electronic classrooms also have smart boards.
Laboratories
The computer, biology, physics, chemistry and science laboratories approved by Cambridge and Pearson Edexcel examination boards contain equipment necessary for practical work required by the curricula. Our students' complete projects based on many topics and have won awards in competitions with them.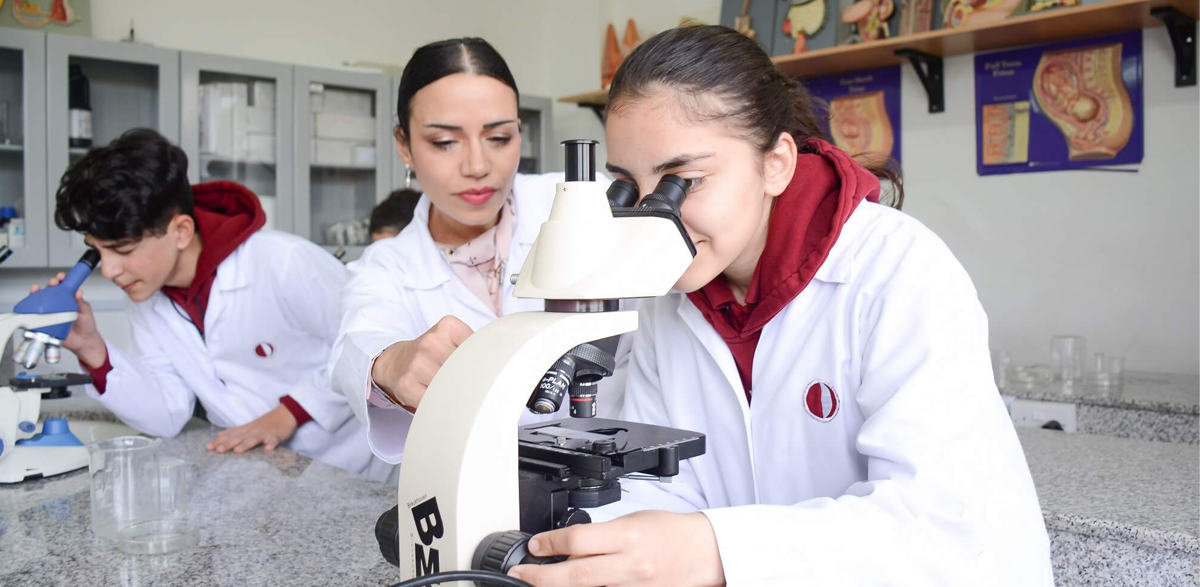 The Library
The aim of the Near East College Library is to develop awareness and shed light on reliable and correct information in this constantly changing world of knowledge. On the other hand, by providing educational and training materials that support the objectives specified in the education program, the library enables students to obtain information quickly and productively from the pool of developing technology and knowledge by providing access to national and international resources. The library also aims to support new ideas and opinions, spread the joy that comes from reading and encourage students to make use of the library as a part of their daily lives. In this sense, students also have the opportunity to access resources from the University's Grand Library.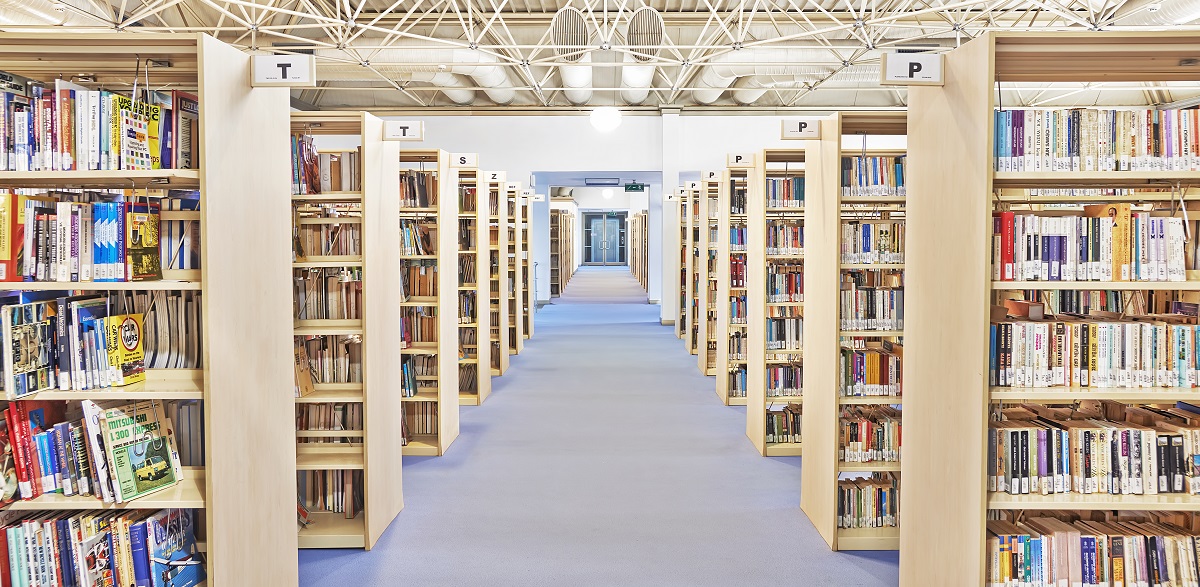 Dance and Music Studio
Near East College students have the opportunity to do sports in the dance studio. Also, they can practice gymnastics and traditional folk dancing. The necessary rehearsals for many music competitions and concerts are carried out in the music studio.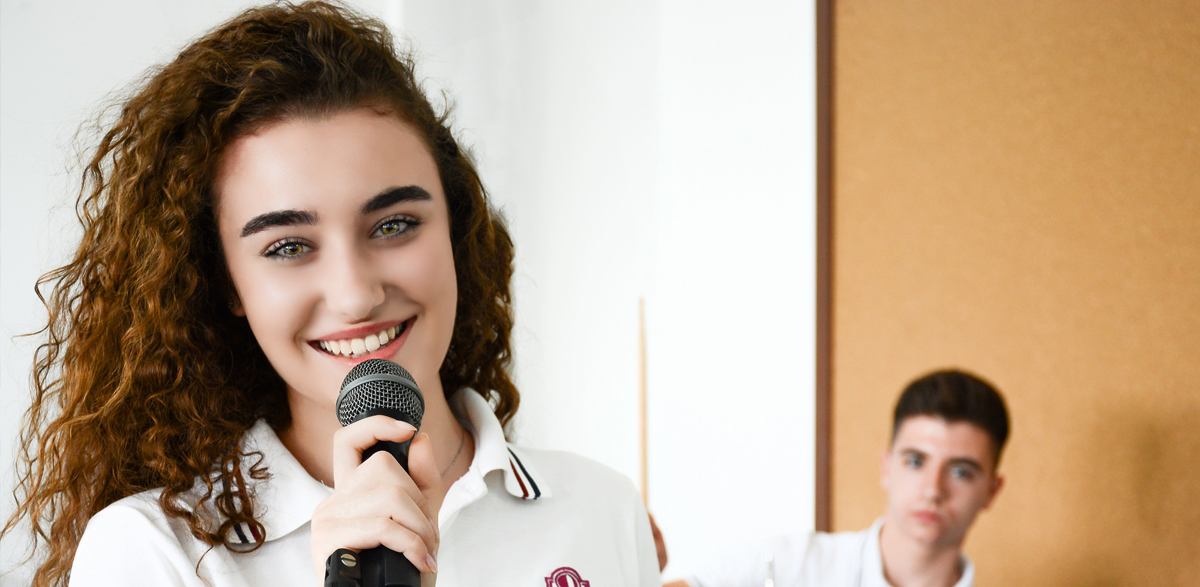 Art Workshops (Painting, Ceramics, Home Economics, Technical Drawing, Calligraphy)
At the Near East Schools, we focus on our students' academic development but at the same time ensure they grow up to be physically, mentally and spiritually balanced healthy individuals who are artistic, creative, productive and have good problem-solving skills. In this way they will be prepared for life after high school therefore, artistic and social activities are integrated into the curricula. In our schools, which support all kinds of activities that reveal and develop our students' abilities, there are art workshops that enable our students to participate and progress in painting, ceramics and home economics lessons. They are then given the opportunity to display their works of art.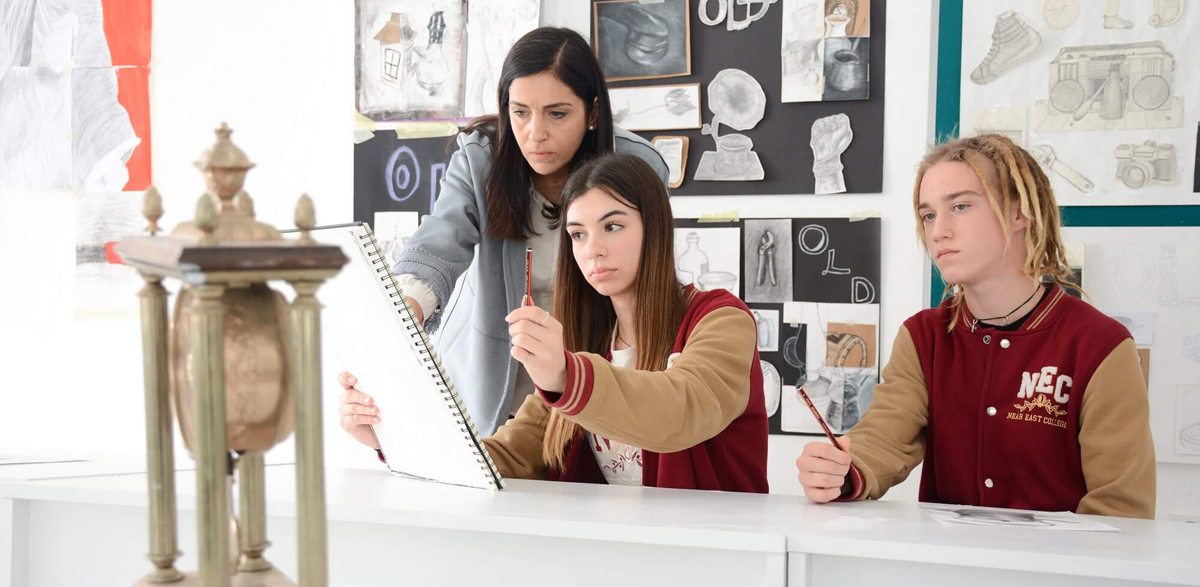 Gyms
There are 2 indoor sports complexes, outdoor playgrounds and sports fields at the Near East College. The sports complexes provide the opportunity to play team games such as basketball, volleyball, handball, football and badminton and are also where all subjects in the PE curriculum are applied. Furthermore, other cultural and sports activities also take place here.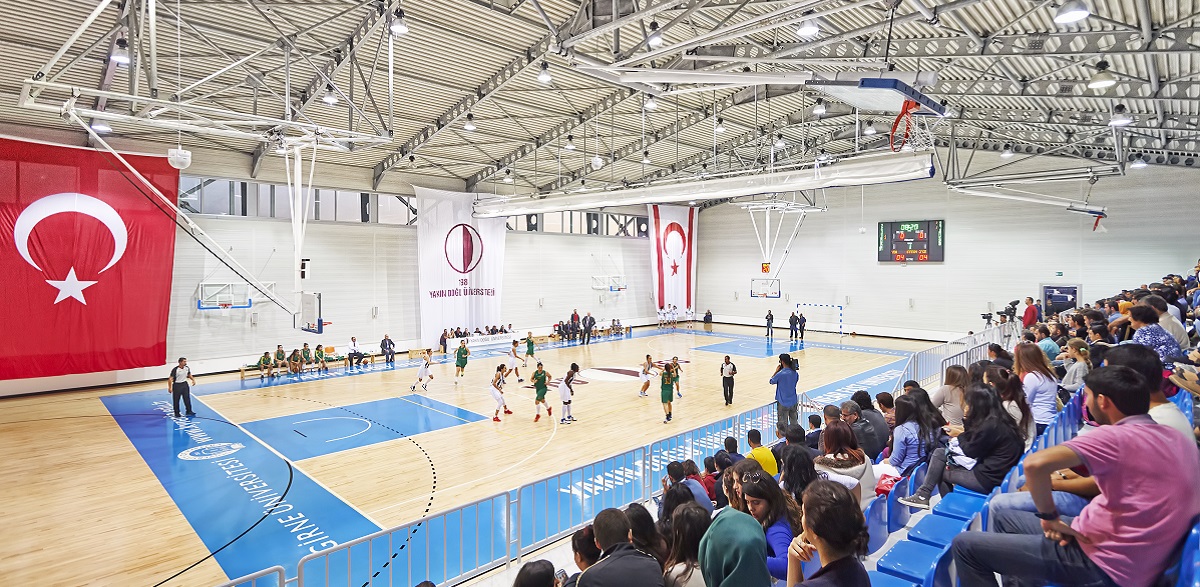 The Near East University Hospital ( HASTAHANE)
The Near East University Hospital was built in 2010 as a private hospital and provides treatment in 36 departments by using the latest technology equipment at standards that exceed those found in Europe.
It aims to eliminate the need for Turkish Cypriots to seek medical assistance abroad as well as encourage patients from abroad to seek treatment in North Cyprus by providing health services provided by distinguished medical staff.
The Near East University Hospital is located within the Near East University Campus in Nicosia and has an indoor area of 55,000 m2. It is comprised of three blocks with three, four and nine stories respectively.
There are 209 individual patients' room (22 being VIP rooms), 8 operating theatres, 30 intensive care units and 17 newborn intensive care units.
We offer high quality polyclinic services along with analytical laboratories that allow all health-related tests to be carried out, usage of a Radiology Centre with the latest and most advanced imaging devices for diagnosis and a Nuclear Medicine and Radiotherapy Centre specifically designed for diagnosing and treating cancer cases. There are 84 fully technologically equipped physician examination rooms.
Emergency Health Insurance (ozel saglik sigorta)
The health services provided to students and employees at the Near East College, aim to minimize health problems that may occur while at school. As the Near East College, we are working hard to maintain academic and social development of our students. Sustaining a healthy life also plays an important part in academic and social well−being.
The Near East Hospital, Near East Health Insurance and Near East schools have introduced an "Emergency Health Insurance" for our students so that they can maintain their health in the best way possible during their school years.
"Emergency Health Insurance" covers all our students and parents are not required to pay any additional fees. The "Emergency Health Insurance" covers health expenses, which may occur either during school hours or otherwise.
"Emergency Health Insurance" covers up to 10.000 TL of health expenses required for emergency treatment or outpatient care. In addition, all of our students may benefit from a 30% discount in fields, which are not covered by the insurance.
Health information such as height-weight measurements and other personal medical details of every student who starts school is recorded. The results of health screenings are shared with parents. Considering students and employees well−being, briefing meetings are organized at certain periods and during possible pandemic affecting the country. Health education is carried out with the collaboration of teachers, taking into account the age groups of students.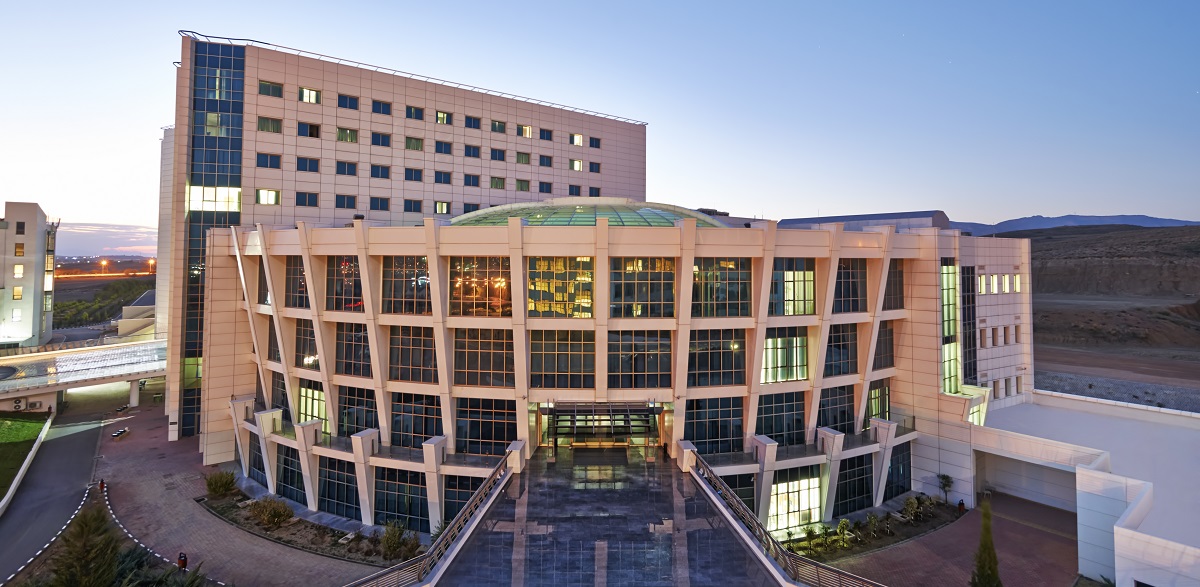 The Indoor Olympic Swimming Pool
The pool is open from 8:00 am to 8:00 pm. It operates under the expertise of 19 experienced swimming instructors. The Olympic Indoor Swimming Pool offers swimming courses suitable for all ages, water polo, high diving and scuba-diving courses.
The Olympic Indoor Swimming Pool, the first and only Olympic Swimming Pool on the island, was opened on May 9, 1997 and features:
an indoor area of 2700 m2.
a height of 16m and measures 50X21 m in width
a water capacity of 3100 tons
a central heating system,
a capacity of 1000 spectators
diving towers from 3, 5, 7.5 and 10 meters,
modern interior equipment,
an excellent cafe.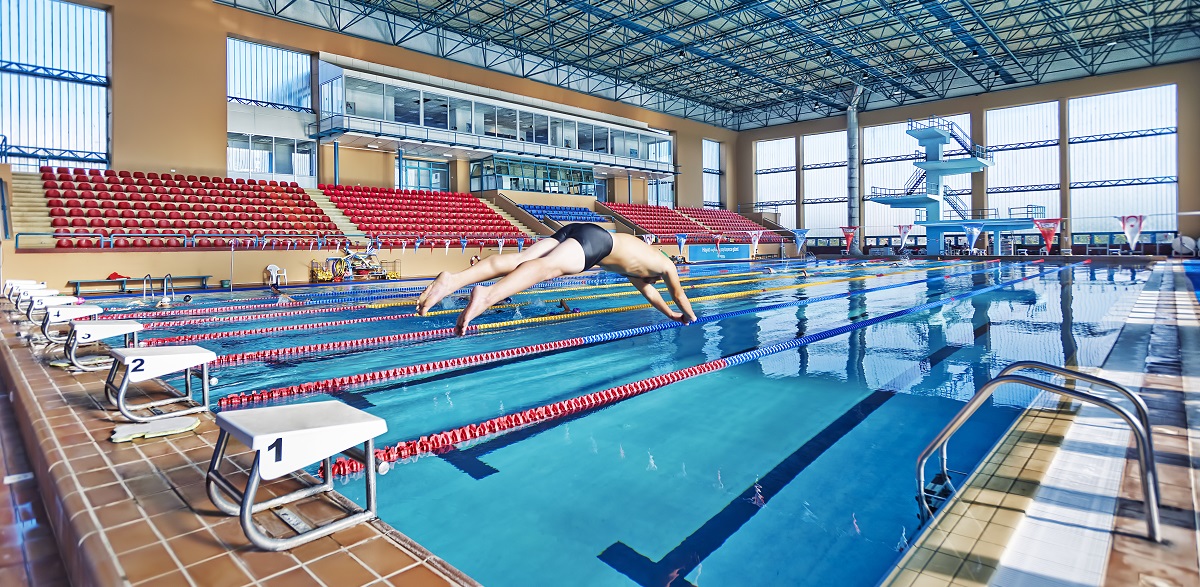 Health and Wellness Centre
Health and Wellness Centre provides a disciplined training environment under the supervision of a medical doctor along with support from the "Health Unit" and trainers who are experts in the fields of sports and physical education.
In the Performance Laboratory the following are provided
Personal physical competency tests,
Nutrition Programs,
Cardiovascular training programs.
Provided services
Determining and improving the general health and physical fitness of individuals,
Level determination, orientation and performance tracking of athletes and sports team members
Physical fitness tests
Opportunities to exercise under the control of a medical doctor,
Tests provided for specific field endurance, power, speed, flexibility, reaction, etc. under the control of sports scientists
Organizing individual and team training programs according to needs,
Follow-up tests and "endurance and stamina control" designed for sports teams' members
At the Fitness Hall the following are provided:
Personalized and computer-aided programs prepared by doctors and specialist trainers,
Weight loss
Gaining weight
Staying fit,
Bodybuilding programs
In the light of up-to-date and accurate information, by taking into account individual abilities and potential, students are encouraged to achieve their goals in the most effective way.