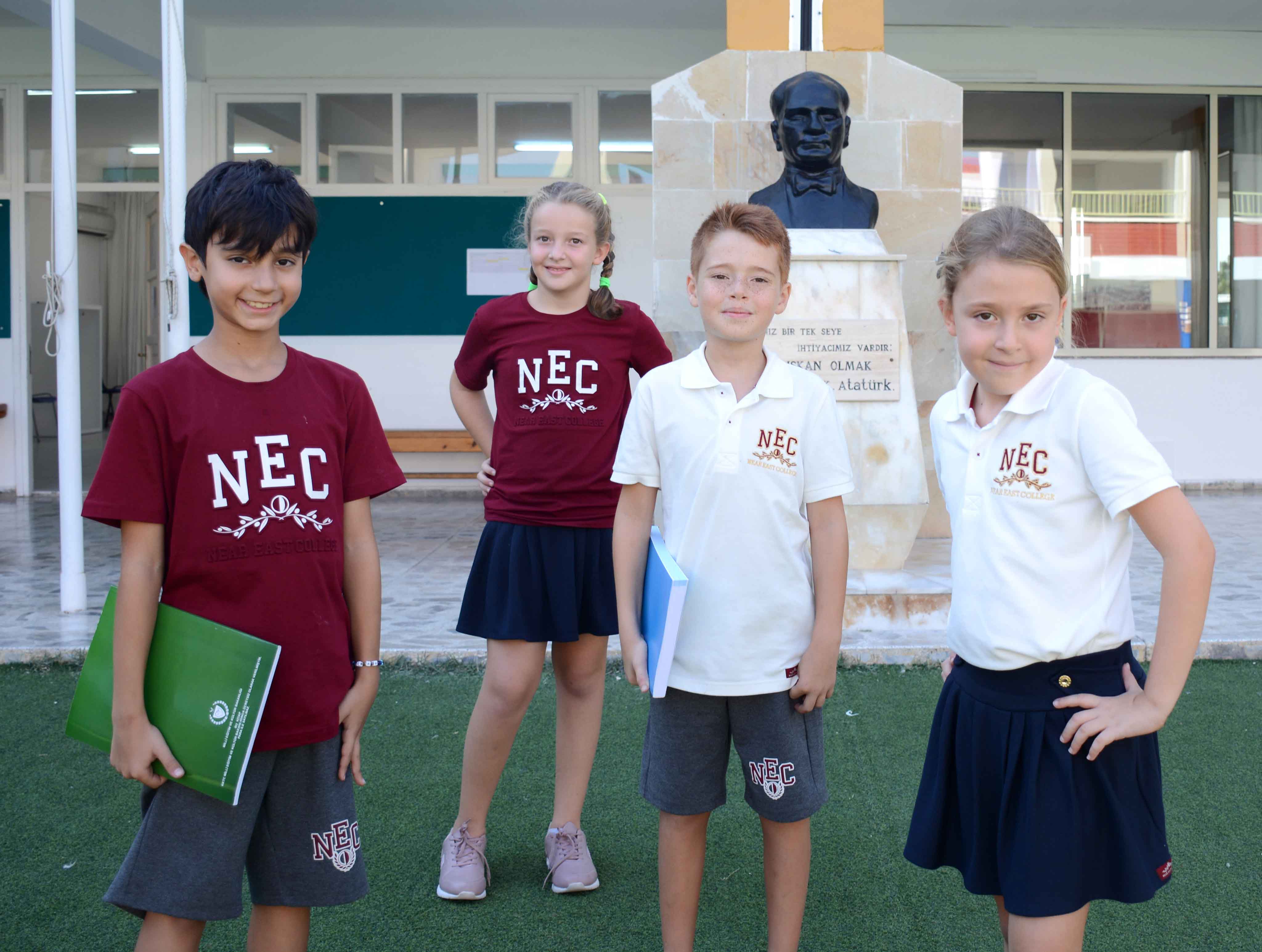 Near East Preschool, Near East Elementary School and Near East College school uniforms to be worn in the academic year 2019-2020 and in the coming academic years have been redesigned in an innovative and modern style.
In the line with the contemporary education approach and in order to provide a refreshing change, Near East Schools have brought a breath of fresh air to school clothes for students to wear with pride and happiness at schools, at their second home, where they spend their childhood and first youth years, where their personalities and characters are shaped, where they learn to share and build up friendships, where they experience the privilege of being a unique individual in the corporate identity.
Having been designed with an approach that appeals to students' spirit, increases mobility, is durable and adds value to individuals without compromising quality, the new school clothes have been designed and enriched in different colors in all student groups from preschool to primary school, from middle school to high school.
Innovative, Modern, Comfortable and Smart…
Designed by the Department of Graphics and Design of Near East University in an innovative and modern style, school clothes were produced by selecting fabrics that would not confine the user's comfort and mobility. New school clothes with their color, pattern and style characteristics have brought a new vision to the institution by conserving the institutional identity.
Marked Changes in the Design, Form and Appearance Have Transformed the School Uniforms into Clothes Worn with Pleasure
With an understanding that adopts quality, durability, diversity and original style, the summer and winter school uniforms to be worn by Near East Preschool, Elementary, Middle and High School students are composed of trousers, skirts, shorts, t-shirts, coats and sweatshirts appropriate with the characteristics of age groups.
In the new academic year, students studying at Near East schools will experience the privilege of wearing very innovative and contemporary school uniforms bearing school emblem. Gray shorts, white round neck t-shirts made of Lacoste fabric and navy blue trousers for boys, skirts and pinafore models have been designed for girls studying at Near East Preschool and Elementary School .For the Near East College students, a burgundy and white round collar t-
shirt and polo collar t-shirt, tan trousers and skirts, gray shorts and tracksuits have been designed. Burgundy and smoke-colored tracksuits and shorts, which are specific to schools, have been designed to be worn during physical education lessons.
Special Collections Will Be Created as Well...
The newly designed school clothes of Near East Schools Group, which is a prominent educational ground of quality education in foreign language education with a wide range education-training models and broad social possibilities, reflect her original and quality line in education. Near East Schools Group will also create special collections specific to her brand and share them with students. Taking into consideration the institutional identity of schools and the expectations and wishes of students, a wide range of products consisting of high quality, colorful, different pattern alternatives and fashionable school clothes designed to elevate the brand value of the school will be offered to students.
A Collection to Reflect the Free Personalities of Children Has Been Created...
Expressing that the new school uniforms of Near East Schools, which started the new academic year with a new style and vision, exhibits their determination for liberating educational practice, Near East Schools Group Secondary Education Director Asım İdris stated that they had set a foot towards creating a new trend via school clothes, which can boost the motivation of students, which they can wear with pride and happiness and which can reflect the privilege of being an original individual within an institutional identity.
Underlining that contemporary clothes are integral requirements of being fashionable and young, Director İdris stated that Near East schools adopt quality, innovation and student-satisfaction in education. "Near East schools come up with a breaking through and innovation in education each passing day in order to ensure all possibilities in quality education. Our aim is not to make our students wear uniforms. Creating contemporary school clothes that can boost the motivation of students is the core matter. Considering the requirement of the modern era, we have made marked changes in school uniforms and designed new school clothes, which they can wear with great pleasure" noted he.
We Want to Instill the Feeling of Belonging…
Highlighting that school uniform is an integral part of being a student, Near East Schools Primary Education Director Ertan Aligüllü noted that school uniforms represent the institutional identity of a school. "Grounding on the liberal and student-oriented approach of educational institutions, we have created a unique style away from uniformity in which students can feel comfortable and healthy.
Uniforms give students a sense of belonging and form a school identity in society. Considering the finest details such as suitability to Near East schools identity and brand, our new school clothes have been designed and created so as to boost the spirit of unity and the sense of belonging. We have also attached a special focus on creating a rich production selection to address the liking of students" said he.