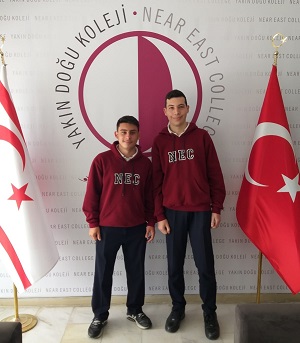 Near East College students have made an outstanding achievement in the SAT exam, which is known as 'Scholastic Aptitude Test' and is a standardized test widely used university admission in the United States; such that the Near East College students achieved a mark which is closest to the highest mark of 1600.
It was revealed that SAT examination is recognised worldwide and Year 12 GCE ALEVEL student achieved 1490 over 1600 and Enver Osmanlı achieved 1450 over 1600 and made the Near East College rather proud!
Previously the Near East College was on the agenda of the public due to its magnificent achievements in the GCE examinations and currently with the success in SAT examination, the Near East College has once again made its mark as another academic year ends, 2018-2019.
Altan Osmanlı and Enver Osmanlı deserve all the applause…
Furthermore, it was expressed that the Near East College authorities had made a statement on the matter and expressed that Altan Osmanlı and Enver Osmanlı were very disciplined, devoted and exemplary students. They reminded everyone that hard work always pays off.  Near East College authorities emphasised how proud they were of Altan Osmanlı and Enver Osmanlı and expressed that they were sure that these two students will be quite successful in the future education and career lives.